---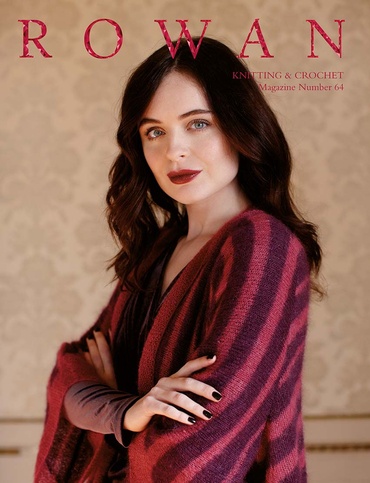 Rowan Magazines
---
It's hard to call this oversize, soft cover book a magazine! With it's beautiful photography and signature "stories" the Rowan Magazine is a pattern book that forms part of a treasured collection as well as your next project plan! Here is an overview of the two latest design collections:
Rowan Knitting & Crochet Magazine 64, celebrating 40 years of Rowan!
This special anniversary edition features two design stories, Ruby and Alpaca Classic. Ruby is a collection of 20 designs by iconic knitwear designers, the inspiration is simply Rowan's Ruby Anniversary. The second story is a collection of 17 relaxed designs by Lisa Richardson, all worked in the gorgeous new yarn Alpaca Classic offering a choice between deep jewel colourwork pieces and a natural neutral palette. Check out the full colour images and design photography here.
Rowan Magazine 63 contains 39 exciting new patterns for women from designers such as Lisa Richardson, Martin Storey and Sarah Hatton. Knitted in our popluar yarns including Kidsilk Haze, Fine Lace and Felted Tweed, designs include comfy cable and lace sweater and cardigans as well as a beautiful selection of accessories. For a full overview of the patterns contained in this book, please click here.