---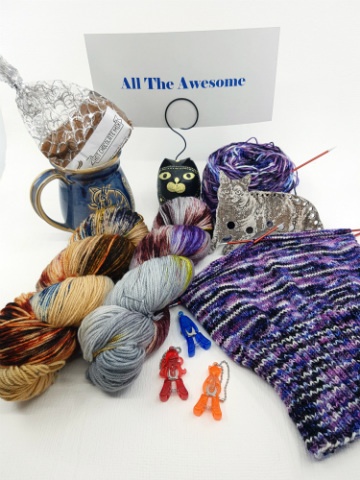 Ancient Arts Super Amazing Yarn Club of 2018
---
Big news!! River City Yarns has teamed up with our talented friends at Ancient Arts to offer you Year 2 of the Super Amazing Fingering Yarn Club! 

Here's the idea: 
Each round (there are three) you receive one 100 gram skein of Socknado, an Italian 80% superwash merino, 20% nylon fingering weight yarn. (This is the same base as our Hat Trick yarn - sooooo nice). All these Club colourways will be brand new and exclusive for one year! And if you love yarn as much as we do, you will love the double up option.  But wait - there's more!  Ancient Arts have sourced some really special gifts they call "Awesomeness" that you can add-on. 
Timing: The first colorway will be shipped to River City Yarns (RCY) mid May. You can pick it up at our store or you can opt to have yours shipped directly to you. We will take orders for the second round from June 15 - 30, 2018 with delivery to RCY mid July. Orders for the third round will take place August 15 -31, 2018 with delivery to RCY mid September.  

Here's how it works: first, you decide if you want just one skein or two, and which add-ons you'd like. We're taking orders online only until May 5th for this first round, with arrival to River City Yarns around May 15th. 
After you place your order, the folks at Ancient Arts will custom-dye and assemble each package and then ship them to RCY! We'll call you as soon as your package arrives, and if you're out of town, just select shipping and we will send it straight out to you. (Regular shipping charges will apply - for each round.)

Here are the details! 

For one package, which ships to RCY the middle of May:
- with yarn only: $36
- with yarn plus all the Awesomeness: $58
- with double yarn only: $64
- with double yarn & all the Awesomeness: $85

You want to get in on this? Select your package in the drop down menu and follow the prompts! If you need help, please give us a call at 780-477-9276.